Cichlids are one of the most popular fish in the aquarium community. Their ease of care, availability, and variety make them highly sought after. Cichlids need room to explore, breed, and swim when it comes to tank size.
How many cichlids can you fit in your 20-gallon tank? Some Cichlid species need less space, and others need more to thrive. Let's explore the best type of cichlid for your 20-gallon tank and how many you can have.
How Many Cichlids Can Thrive in A 20 Gallon Aquarium?
The majority of cichlids are too large for a 20-gallon size aquarium. With over 1600 species of cichlids, the amount of variety is endless, but they are one of the largest families of fish, and they need space to thrive.
There are, however, some cichlids that are well suited for a 20-gallon tank.
It's best not to keep more than 2 cichlids in a 20-gallon tank because their size simply won't allow it. Keeping many cichlids can also lead to territorial behavior.
What Is the Ideal Aquarium Size for Cichlids?
Cichlids can grow very large, so they have a bigger tank requirement. Most cichlids thrive in a minimum aquarium size bigger than 55 gallons of water. Some cichlids are very large and need a tank with 120 gallons or more, and there are smaller species that can thrive in a 20-gallon tank.
Ideal tank size depends on the types of cichlids. Each Cichlid has different needs in terms of the amount of space needed.
What Cichlids Can Thrive in A 20-Gallon Tank?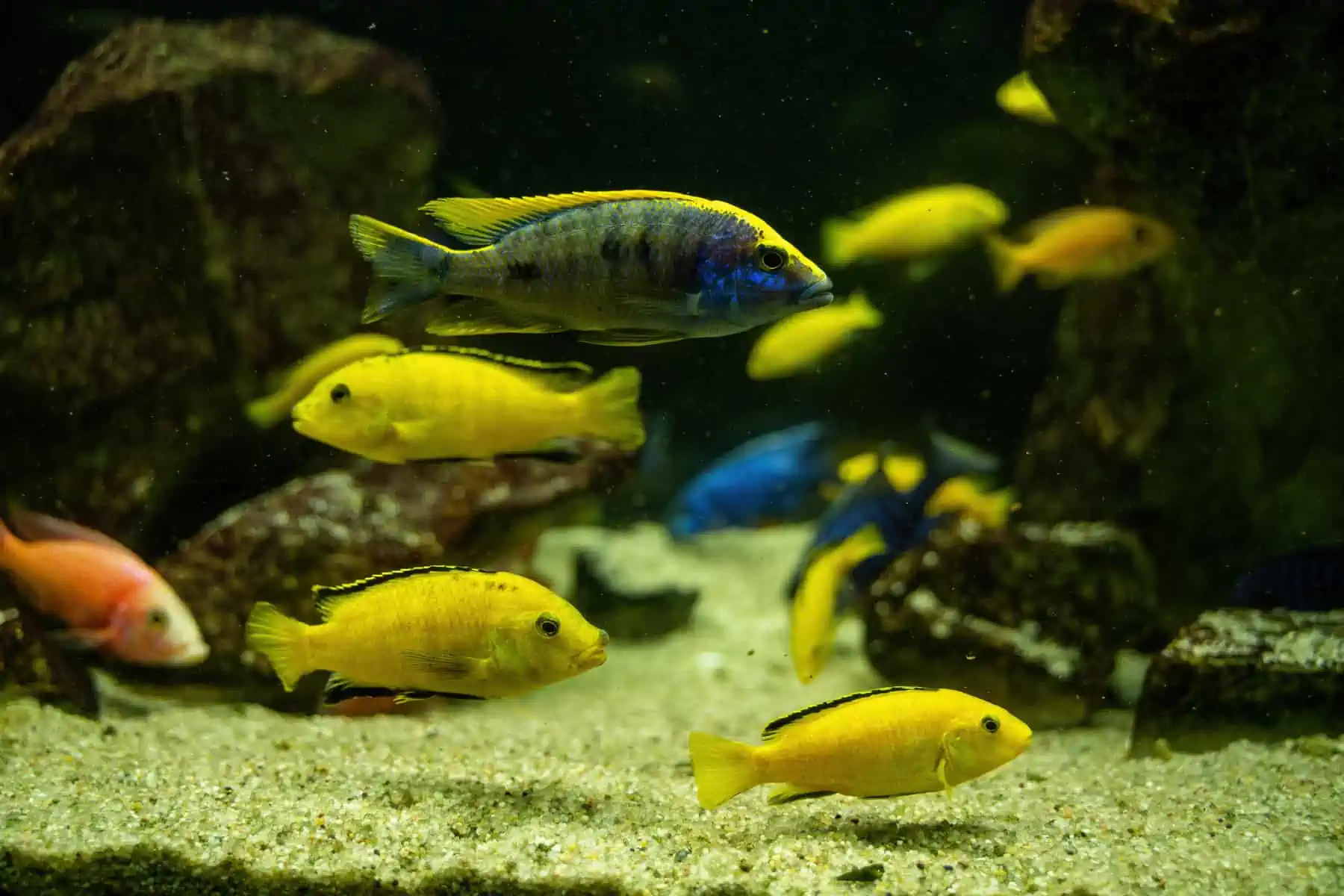 There are some smaller cichlids that can thrive in a 20-gallon tank. However, you can't keep more than one pair of each type of cichlid in a 20-gallon fish tank. Here are 8 cichlids that can thrive in your 20-gallon tank.
Julidochromis
Julidochromis, also known as the masked Julie, is the smallest type of cichlid. They typically only grow to 2.7 inches in size.
Requirements
The Masked Julie is a shy type of fish that usually chooses to stay in rocks at the back of the tank. They do well in a community tank, and keeping them in pairs is not required. They get along well with other Tanganyika cichlids as long as they are the same size.
Care
Cichlid fish are easy to care for but need weekly water changes. Their small size and hardiness make them ideal for beginner fish keeping. Provide them with a sandy substrate with lots of rocks to make them comfortable.
Feeding
The Masked Julie is an omnivore that likes a balanced diet. Feeding them pellets, water fleas, and brine shrimp will provide them with a balanced diet. They prefer to eat in small amounts, so give 2 to 5 small pinches of food daily.
Temperament
The masked Julie is peaceful with the same species but can be aggressive with fry. They do, however, get along with fish and offspring of different species.
German Blue Ram
The German Blue Ram or Ram Cichlid is more peaceful than other types of cichlid but has stricter water quality requirements.
Requirements
German Blue Rams have a minimum tank size of 20 gallons with a PH of 5.0-7.0. The water temperature needs to be between 74 and 82 °F. Good water quality needs to be maintained regularly and strictly to keep them thriving.
Care
German Blue Rams enjoy having plants in their tank. They like hiding in caves. It is important to provide them with enough plants and hiding places for a safe space to ensure they are thriving.
Feeding
German Blue Rams are also omnivorous fish. They like a diet of cichlid pellets and occasional fresh or frozen foods. Give them carnivore treats 2-3 times weekly.
Dwarf Flag Cichlid
This vibrant species of cichlid is ideal for small to medium aquarium sizes. The Dwarf Flag Cichlid is also known as the Dwarf Acara Fish. They are easy to maintain long-term and require a low care level.
Requirements
The Dwarf flag fish originates from the Amazon River. An ideal aquarium should mimic its natural environment. Their natural habitat has a dark substrate and dense plants, so they prefer a dimmer tank. They also prefer tank water that is slow, so they need a tank without a strong filter.
Care
Dwarf Flag Cichlids prefer water parameters with a pH level between 5.5 and 7.5, a temperature between 72 and 80 °F, and a DH level between 5 and 12. They enjoy soft acidic water.
They are generally peaceful fish and are indifferent to their tank mates. They can get aggressive during breeding.
Feeding
Give them a balanced diet of live and frozen food such as mosquito larvae, bloodworms, daphnia, flakes, and pellets. Feeding them a balanced diet can ensure their colors brightly shine.
Rainbow Kribensis
Rainbow Kirbensis cichlids are popular, colorful fish that are easy to care for. They are very tolerant to water hardness levels and live in shallow waters with thick vegetation.
Requirements
The Rainbow Kribensis cichlid prefers water with a PH of 6.5 and a temperature between 75 and 77 °F. °F. Tankmates for the Kribensis need to be chosen wisely. While they are generally peaceful, they can nip at slow-moving species of fish.
If you want to pair them with other cichlids, it's best to choose a species that doesn't live on the tank bed because kribensis are very territorial. It's also best to avoid housing them with other cave-dwelling fish.
Care
Provide them with caves and rocks for hiding spots. They need hiding spots for spawning. Kribensis are a very undemanding fish that doesn't need perfect water quality.
Feeding
Kribensis are omnivores. To give them a balanced diet, they need flakes, pellets, and brine shrimp that are fresh or frozen. They can eat other live foods such as bloodworms, daphnia, and larvae.
Some types of Kribensis cichlids are bottom dwellers, so they need foods that can sink, like sinking pellets.
Apistogramma
Apistogramma is a type of dwarf Cichlid. They have personalities and temperaments different from other cichlids. They are great for community tanks and do well with most species.
However, do not keep them with other bottom dwellers because they can get territorial.
Requirements
A 20- gallon tank is enough room for a pair of Apistogramma. They can be sensitive to PH levels and temperature shifts, so keeping a close eye on water conditions is important. They enjoy warm water with a neutral PH and lots of hiding places.
Care
Apistogramma like a fine sand substrate and live aquatic plants. They thrive in an environment with vegetation for hiding places and occasional food. Plants like java fern or moss are great additions.
Giving them caves and hiding spaces are also important for breeding.
Feeding
Apistogramma is omnivores that eat algae, plants, insect larvae, fish fry, worms, and small invertebrates. If you keep more than one in your tank, avoid keeping multiple males, as the males are more aggressive fish.
Multi Cichlids
Neolamprologus multifasciatus, or the Multies cichlid, is a small cichlid originating from Africa that lives in shells. The multis are the smallest of all cichlid fish species. They only breed and make homes inside shells. They grow to an average size of 1.8 inches for males and 1.4 inches for females.
Requirements
For a pair of multies, a 20-gallon tank would be ideal. Water conditions must be kept as close to their native environment as possible. A PH of 7.5 to 8.5 and hardness of 15 DKH will keep them thriving.
Care
Multi's are fairly popular among fish keepers. Their care is fairly simple. They need a sand substrate with at least one shell per fish.
They like to live in groups but need to be provided with enough shells to prevent fights.
Feeding
Multi's need a balanced diet of nano to small pellets, brine shrimp, and frozen daphnia to thrive.
Cockatoo Cichlid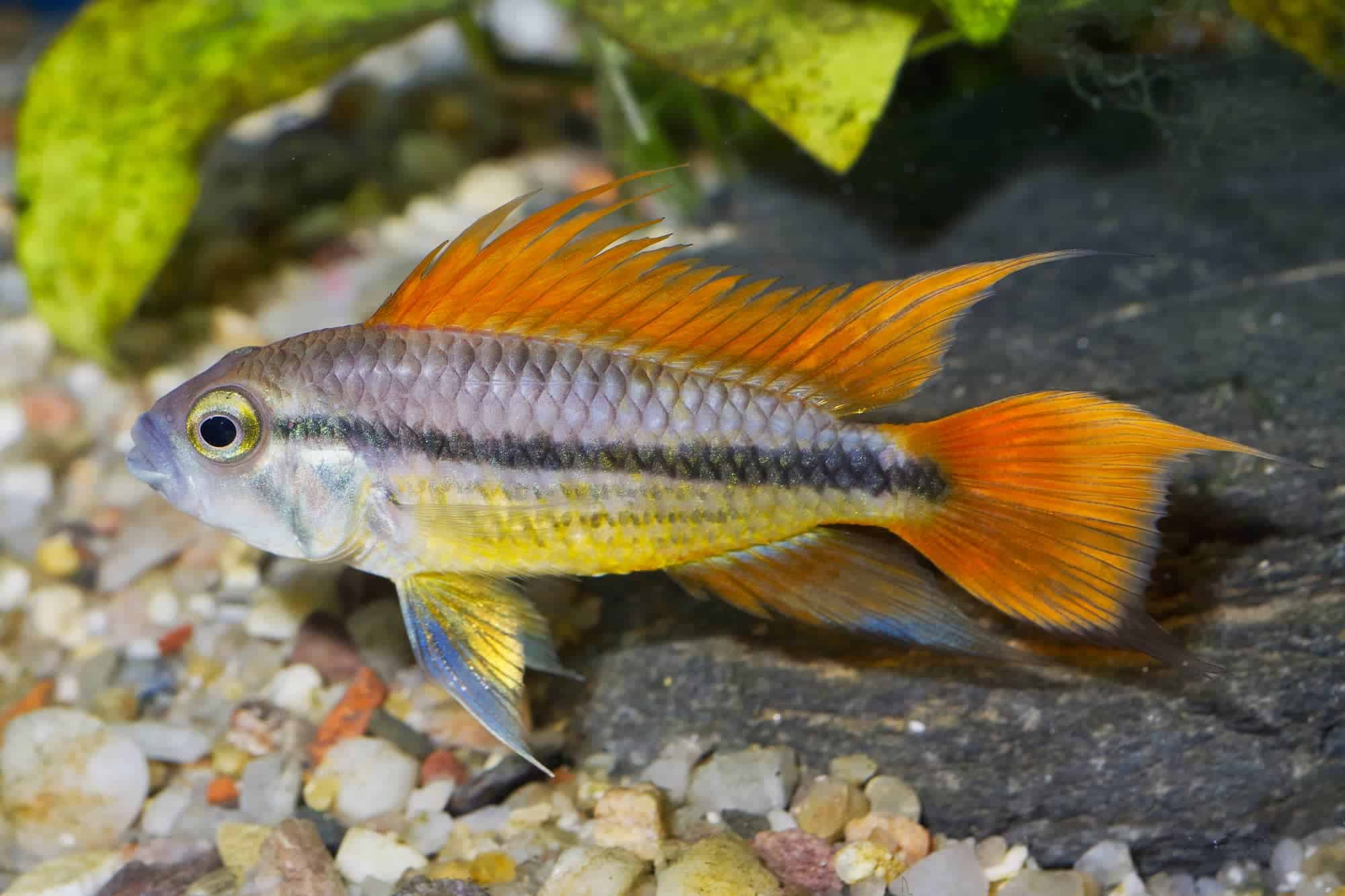 The cockatoo cichlid is a type of dwarf cichlid that is also sometimes known as the big-mouth cichlid. It has various color variations to brighten up your tank.
A pair of Cockatoo cichlids can easily be kept in a 20-gallon tank. The males can reach up to 3.5 inches in length, and the females are usually smaller in size.
Requirements
The Cockatoo cichlid originates from the Amazon River. Their natural habitat is slow moving with lots of leaf litter on the bottom. They prefer soft, slightly acidic water with a pH of 6.0 to7.0 and a hardness of 2 to 15, and a temperature between 79- and 84 degrees Fahrenheit.
Care
The environment of a cockatoo cichlid should be full of plants with plenty of hiding places. They enjoy a dark substrate with driftwood. Water should be cleaned and changed regularly. They can become territorial fish during spawning if too many males are present.
Feeding
They enjoy live food such as brine shrimp along with flakes for a balanced diet.
Umbrella Cichlid
Umbrella Cichlids are another type of dwarf cichlid native to Brazil. This colorful species is fairly peaceful. A pair of these cichlids will thrive in a 20-gallon tank.
Requirements
The Umbrella Cichlid needs an environment with a water temperature of 68 to 82 degrees Fahrenheit, a PH of 6 to 8, and a water hardness of 5 to 19. Also, long as they have proper cover, they are generally not picky about plant decor.
A soft sand substrate with branches and dried leaf litter will give a natural feel.
Care
The Umbrella Cichlid will thrive in an aquarium with a sand substrate and plenty of hiding places, such as driftwood and rocks. They also need lots of open space. They can be paired with other peaceful fish. They can be territorial during spawning, so in this case, tankmates should be avoided or kept to a minimum.
Feeding
Umbrella Cichlids are detrivores that filter their food from the bottom of the tank. They also like a diet of mosquito larvae, daphnia, and flakes.
Conclusion
Overall, when it comes to cichlids, the bigger the tank, the better. Overcrowding and lack of space can stress your cichlids and prevent them from thriving.
When choosing a cichlid for this tank size, it is important to choose one that can adapt well to a 20-gallon tank. Any of the species of cichlid mentioned above would be a great addition to your tank.