A 40-gallon tank is a great choice for an experienced or beginner aquarist, especially if you want to keep a nice variety of medium-sized fish. 40-gallon tanks come in different shapes too, including corner tanks and hexagonal shapes, too, giving you lots of scope to create a beautiful focal point in your room.
However, there are so many 40-gallon aquariums to choose from, and finding the right one for you can be like looking for the proverbial needle in the haystack. So, to help you out and save you some valuable time, we've put together this guide to five of the best 40-gallon fish tanks on the market today.
Also, we've given you some helpful information and pointers when it comes to setting up your new aquarium correctly and choosing the equipment that you need to keep your fish happy and healthy.
First of all, let's get to it and find the perfect fish tank for you!
Best 40-Gallon Fish Tanks
Here are our five favorite 40-gallon aquariums. We've provided handy in-text links that take you right to the online store where you can read other buyers' reviews and place your order when you've found the perfect aquarium for you.
SeaClear Acrylic Aquarium Combo Set
SeaClear 40 gal Acrylic Aquarium Combo Set
Combo includes aquarium, reflector and electrical 24" light fixture
Acrylic aquariums are clearer than glass, 17 times stronger, and only half the weight!
More impact resistant and less prone to chipping or cracking than glass, making it safer around children and pets
Check Price on Amazon
We earn a commission if you make a purchase, at no additional cost to you.
The SeaClear Acrylic Aquarium Combo Set comes complete with a 24″ light fixture, reflector, and the aquarium itself, offering you great value for money.
This acrylic tank is lighter than a glass one and is also much stronger, making this a safer option to have in your home if you have kids and pets running around. Also, acrylic is impact-resistant and much less prone to cracking or chipping than glass. You can use this tank for a marine, reef, or freshwater setup.
The tank comes with an option to choose from three colors for the back panel. That saves you the hassle of having to apply one of those fiddly adhesive sheets that always seem to bubble up no matter how carefully you fit them!
The main downsides to this tank are that it doesn't come with a filtration system or a heater. You have to buy those separately. Also, the tank has a light fixture, but there's no bulb included, so you have to buy that too. However, that's not necessarily a bad thing, as it allows you to choose the best lighting unit for your fish and plants.
The aquarium is rectangular in shape, measuring 36 x 15 x 16 inches.
What we like:
Non-scratch, super-strong acrylic construction
Solid color back panel choice
Lightweight
Room for improvement:
Doesn't include a light bulb, heater, or filtration system
SeaClear System II Acrylic Aquarium
SeaClear 40 gal System II Acrylic Aquarium
SeaClear System ll Acrylic Aquarium offers a true wet/dry biological filtration system built into the back of the aquarium
Full Hood with 24" fluorescent fixture (light bulb not included); Efficient and economical to run
Check Price on Amazon
We earn a commission if you make a purchase, at no additional cost to you.
Staying with the high-quality product manufacturer, SeaClear, we love their upgraded System II Acrylic Aquarium!
This more inclusive package offers all the benefits of SeaClear's other acrylic tanks but comes with the attractive extra feature of a high-quality wet-dry filtration system that is built into the rear of the tank. The filtration system includes several chambers that are designed to your house mechanical, chemical, and biological filter media, and there's also ample space to take a heater and the System II protein skimmer that's sold separately.
The tank's full hood comes with a 24″ fluorescent fixture, although you don't get the bulb with the kit. The filtration system is super-quiet, and the molded turbulence manifold feature provides excellent circulation throughout the tank. There's an adjustable four-way skimmer gate that prevents fishes from getting into the filter, and an additional filter tray to take active carbon or other chemical filtration media as desired.
Overall, this is a good quality tank that allows you the flexibility to customize the setup to suit your requirements.
The tank is rectangular in shape, measuring 36 x 15 x 16 inches.
What we like:
Non-scratch, super-strong acrylic construction
Solid color back panel choice
Lightweight
Quick-change filter media system
Room for improvement:
Doesn't include a light bulb, heater, or filtration system
Aqueon Standard Glass Aquarium Tank 40-Gallon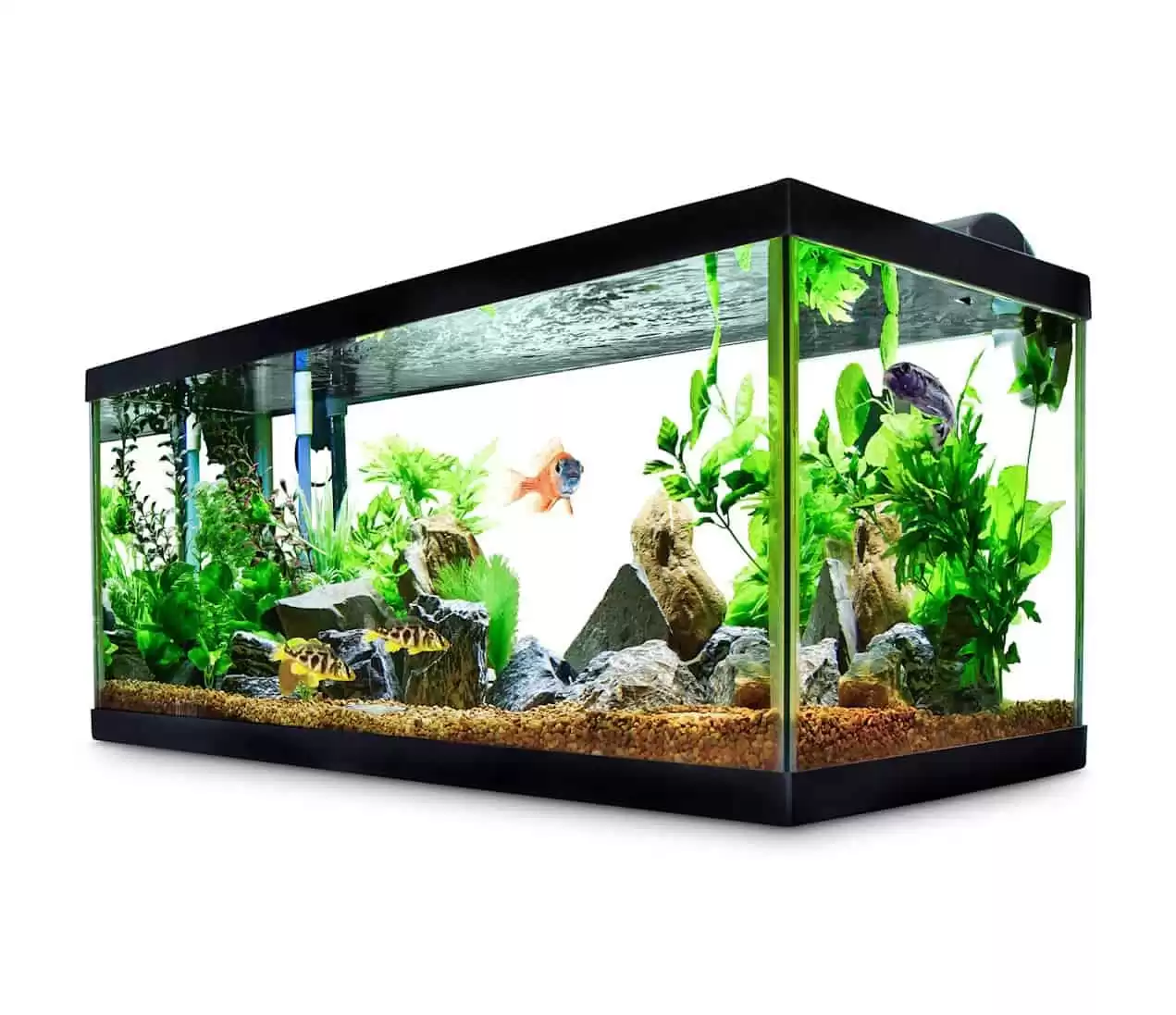 If you want a 40-gallon aquarium that offers you a completely blank canvas that you can customize as you want, the Aqueon Standard Glass Aquarium could be what you're looking for.
This sturdy glass tank is suitable for use with marine, reef, and freshwater setups, and you can choose from oak or black trim to complement your interior décor scheme. Aqueon's large tanks are built with a one-piece central frame brace that prevents the glass from bowing, and you can choose from clear or black silicone seals for peace of mind that your new tank won't leak.
This rectangular tank comes with a 90-day warranty and measures 12.25 x 6.25 x 8.125 inches.
What we like:
Well-made and durable
Allows full customization
90-day product warranty
Room for improvement:
Doesn't come with any additional kit, so you need to buy your own
Long Octagon Aqua Coffee Table Aquarium
If you want an unusual 40-gallon aquarium that will certainly create a talking point in your home, you might want to consider the Long Octagon Aqua Coffee Table Aquarium. This base of this stunning six-sided acrylic tank measures 30 L x 30 W x 16 H inches, and the top measures 38 L x 38 W inches, making this piece of furniture ideal for a spacious living room.
The lighting unit sits below the blue glass substrate, which creates the perfect restful ambiance for your room and really makes your fishes' colors pop. The tank is set on a black acrylic pedestal that houses the light, filtration unit, cables, etc. The tank comes with a two-stage submersible filtration system and a few artificial plants.
The aquarium and the coffee table top are both made from a durable, scratch-resistant acrylic material that you simply wipe clean. Kids love coffee table tanks! They can get up close to the fish, learn about how the aquarium ecosystem works, and get involved in caring for the fishes and other tank residents.
What we like:
Comes as a complete kit
Makes an unusual focal point for any room
Is easy to assemble and hassle-free to maintain
Room for improvement:
Calcium build-up can be an issue and can cloud the acrylic
Acrylic is safer than glass but is prone to scratching
Marineland AMLPFK29B Biowheel Aquarium Kit
The Marineland AMLPFK Biowheel tank is a 30-gallons fish tank, but it still a great choice if you don't want something quite as large as a 40-gallon fish tank. You can certainly accommodate plenty of fish in a tank of this size without it taking up quite as much space as the larger models do.
This is a great product! The Biowheel filtration system keeps your tank water crystal clear, odor-free, and safe for your fish. The mechanical element of the system is powerful enough to circulate the water evenly throughout the aquarium, picking up floating debris and dragging it through the filter unit where it can be processed by the biological element of the system. Meanwhile, chemical filtration removes chemical residue and heavy metals from the water that could harm your fish.
The lighting is brilliant – literally! The moonlight effect LEDs are hidden inside the tank lid for easy maintenance and cleaning, and the light quality really makes your fishes' colors pop.
What we like:
Comes as a complete kit
Beautiful lighting effect
Heater and 3-stage filter included
Room for improvement:
Online description is a little confusing
What equipment do you need for a 40-gallon tank?
If you don't choose a tank that comes complete, you'll have the option to customize your setup, which can be advantageous if you want to create particular lighting effects or have a preferred type of filtration system. If you're a newbie to the hobby, you'll need to know what other equipment is required for a 40-gallon setup.
Filter system
The filter system that you choose is just about the most important item you will ever purchase for your tank. How so? Well, a fish tank is an enclosed environment that would quickly become stagnant and full of toxic chemicals, including ammonia, nitrites, and nitrate without an efficient filtration system to process fish waste, uneaten food, and general detritus.
A good mechanical filter also creates good water flow through the aquarium, helping to remove floating particles of debris from the water, circulating warmth from the heater evenly throughout the tank, and oxygenating the water.
Heater
If you want to keep tropical or marine fish, you will need an efficient heater for your aquarium. Heaters are pretty simple devices. You simply set the desired temperature range that you need for the fish species you keep, plug in the heater, and you're good to go. Many of the heaters that you can buy these days feature a built-in thermostat. That's a big plus point, as it means you don't need to worry about temperature fluctuations. The heater switches itself off when the desired water temperature is reached or exceeded.
Lighting
Lighting is an extremely important feature in an aquarium, especially if you have a planted tank. The right levels of light encourage the growth of plants, fish, and even the beneficial bacteria that help to keep the environment clean and safe for your fish.
You can buy fancy lighting units that allow you to choose mood lighting and even mimic weather conditions, daylight, and, moonlight.
Aquarium cabinet
Never put an aquarium on a regular piece of household furniture. Fish tank cabinets are specially designed and constructed to safely carry the weight of a fish tank full of water, whereas a regular dining table or a coffee table may not be strong enough. Many aquariums have ended up bowed or even smashed because they were put on an unsuitable stand.
You can generally buy 40-gallon aquariums complete with a cabinet or stand, which is an additional purchase you cannot do without. Purpose-built cabinets also have space to accommodate canister filters, associated cables, fish food, and other miscellaneous aquarium-related bits and bobs.
Other accessories
Other items you may want to consider purchasing include:
You might also want to include an airstone and pump if you want to boost dissolved oxygen in the water.
Aquarium style – rimless vs. rimmed
When choosing a 40-gallon tank, you have the choice of a rimless or rimmed aquarium.
Modern rimless tanks are becoming increasingly popular with hobbyists who want an uncluttered, minimalist look for their display tank. However, if you do go for a rimless tank, you'll need a mesh screen to keep your fishy friends in their home, as rimless tanks don't come with a traditional hood. You should also note that rimless aquariums can be prone to salt creep if you have a marine setup, and smudges are more of a problem too. That mesh top will allow greater water evaporation, increasing salinity, so you'll need to perform top-offs much more frequently too.
Large, rimless glass aquariums often have "bridges." A bridge is a piece of glass or metal that sits across the top of the tank to strengthen it and prevent the aquarium from bowing. You can find rimless, bridgeless tanks that don't have that central support structure. However, these tanks are usually made from very thick glass to give the tank additional strength.
Final thoughts
A 40-gallon tank can enable you to enjoy keeping more fish than you can with a smaller setup. You can choose from acrylic or glass tanks, depending on your preference. Also, you can buy your new tank as a kit that comes complete with everything you need, or you may prefer to opt for a plain tank that enables you to customize it with the best equipment and extras that you can afford.
Often, a 40-gallon fish tank gives the beginner aquarist a perfect stepping stone to the next stage of expanding their hobby without the need for too much space. So, if you're looking to upscale your fishkeeping obsession, a tank of that size could be just what you need