Bettas are a long-time favourite of many fishkeepers: betta shows are held all over the world and there are many hobbyist breeders. Available in many colors and fin shapes, it's no wonder this little insect eating fish with a history is one of the most popular aquarium fish around.
Keep reading for everything you need to know about keeping Betta splendens!
| | |
| --- | --- |
| Minimum tank size | 5 gal (20 L) |
| Temperament | Aggressive |
| Diet | Carnivore |
| Temperature | 77-83 °F/25-28 °C |
| pH | 6.8-7.5 |
| Length | 2.4″/6cm |
Name
Betta splendens, Betta, Siamese Fighting Fish
Betta natural habitat
Betta fish are naturally found in Thailand and Cambodia, usually in small ponds, rice paddies and slow moving rivers with lots of thick vegetation.
To be able to survive in these areas, where the water often dries up to small puddles in the dry season, Betta fish have developed the ability to jump from puddle to puddle and breathe small amounts of oxygen from the surface using their labyrinth organ. This is likely what spawned the myth that they can live in small amounts of unfiltered water, like cups and vases.
Appearance
Their appearance is what made these fish so popular! Selective breeding has resulted in endless color and fin shape combinations, often with pretty exotic and interesting sounding names. The most common fin shapes include veiltail (the most common variety), plakat (short finned), double tail, crown tail and half-moon.
Most of the Bettas found in your average pet store are males, that can be recognized from their large, flowing fins, which they flare out when trying to impress and intimidate another male. Females have much shorter fins and are often less colorful. This sometimes leads to confusion: short finned (plakat) males are occasionaly mislabeled as females, so be careful when buying a "female" betta.
You can find more info about keeping female Bettas here. Their fins might be shorter but they're just as feisty and fun as their male counterparts!
Betta requirements
Contrary to belief spread mainly by pet stores, Betta fish cannot live in a cup, and won't 'freak out' in larger spaces. They are tropical fish that require a heated, filtered and preferably rectangular tank of at least 5 gallons with a lid. Bettas can breathe air at the surface, so they should always have the possibility to do this. To make them feel safe, a planted tank and calm tankmates are recommended. The aquarium should always be fully cycled.
Tanks like the 'Betta peace lilly', wall mounted bowl, tiny "aquaponics systems" and "self cleaning tanks" are not proper living space for a betta and should always be avoided.
More information about why betta bowls are bad can be found here.
More information about proper betta aquariums, equipment and tankmates can be found here.
Betta diet
The Betta's upturned mouth reveals what it likes to eat in the wild: insects that have fallen in the water. Mosquito larvae, zooplankton and occasionally small amounts of vegetable matter are also in the wild Betta's diet.
In captivity, Bettas should be fed a varied diet, consisting of high quality Betta pellets like Omega One Betta Buffet Pellets or New Life Spectrum Betta Formula and other foods containing animal protein, like mosquito larvae, bloodworms, brine shrimp and small live shrimp.
Be sure not to overfeed your Betta. Although they are great at begging for food and seem hungry all the time, they only need a small amount of food once or twice a day. Skipping a day, for example when you're away, is not a problem.
More information about what a good betta diet looks like can be found here.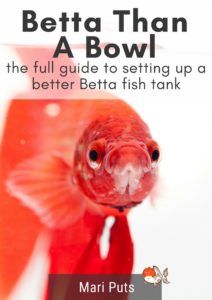 Betta behavior
Although many guides list building bubble nests as the best indicator for whether a betta is happy and healthy or not. However, even sick bettas in tiny cups will sometimes do this, so whether your betta makes bubble nests or not says nothing about its condition.
A healthy, happy Betta is curious and active, and will usually flare when confronted with a mirror. Other signs that your Betta is doing well are begging for food, getting excited when you enter the room and patrolling the tank.
When provided with the right kind of aquarium, Bettas are gorgeous fish with a huge personality towards both their owner and their tankmates. If you'd describe your Betta as 'boring', then there's probably something wrong. Sick or unhappy Bettas show symptoms like lethargy, paleness, fins rotting/"melting" away, hiding, scratching or being skittish.

Breeding Bettas
Breeding Bettas is considered to be fairly easy. The male and female should be healthy, well-fed and roughly the same size to prevent injury, and water quality in the breeding tank should be high. The female is usually introduced into the male's tank for the spawning process.
The two should be allowed to get used to each other for a few days before being put into the same tank, which is usually done by placing their aquariums next to each other for a while. The male is then moved to the breeding tank, and after a few hours of acclimating the female is put in a vase or behind a clear divider inside the breeding tank until a bubble nest has been built.
When the female is released into the breeding tank, the couple will usually bite at each other's fins for a bit before starting the spawning process – it sometimes takes a few days before they are ready to spawn, but it's not uncommon for them to start right away either.
The female follows the male to the bubble nest, where they embrace. The female releases her eggs and will usually sit motionless while the male picks them up from the bottom of the aquarium and puts them in his bubble nest. The female should now be removed from the tank to prevent her from eating the eggs or being attacked by the male.
---
---
The male is left in the breeding tank with the bubble nest and eggs until the fry are free swimming or until he starts eating them. The fry will live off their yolk sacs for the first few days, but as soon as these are gone you should start feeding lots of tiny portions of infusoria throughout the day. Other foods, like newly hatched brine shrimp and microworms, can be fed when the fry is at least two weeks old.
Uneaten food should carefully be removed, as stable water values are very important. This also means doing frequent water changes. The fry grow quite slowly, but should eventually be separated when the males start becoming aggressive. Females can stay together in the same tank.
---
If you have any additional questions about keeping bettas or if you want to share your own experiences with them, leave a comment below. Happy Betta-keeping!

---
Join the mailing list!