I've been seeing a lot of extreme rosetail and feathertail bettas lately – and a lot of people admiring them. Their peacock-like tails make them beautiful fish to see, but at what cost? A lot of rosetail/feathertail betta admirers don't realize that the excessive branching of the caudal fin (tail) on those beautiful fish has some very big downsides.
Think twice before you stimulate these extremes by buying a fish like this or using it in your own lines!
What are rosetail/feathertail bettas?
Rosetail and feathertail bettas are halfmoon bettas with extra branching in the fin rays (especially on the caudal fin). This allows the caudal fin to spread beyond 180° in some cases, causing it to overlap with the other fins. This makes for a gorgeous fish; the excessive branching gives the fins a rose-like, or, in extreme cases, feather-like appearance.
Their beauty has made rosetails and feathertails increasingly commercially popular. Whereas at first they were mainly used by breeders to quickly improve the tail spread of their lines, they are now specifically bred to sell to the public on sites like Aquabid. And I have to agree, if I didn't know better I'd definitely consider this tail types over others!
Unfortunately, only paying attention to improving the finnage of a fish to create the ultimate X-factor rosetail will cause many problems for said fish later on.
Why should this tail type be avoided?
As discussed above, I would try to avoid buying rosetail and feathertail bettas. This especially goes for the more extreme versions. The fish you see in photos and videos are almost always still young and strong. Their fins are not fully grown in yet and they are not showing the various typical 'rosetail-problems'.
Lethargy. This one can also be seen in more extreme halfmoons, but is extra common with rosetails and feathertails. Their fins are so heavy the fish can't swim for long periods of time and often spend most of their day sitting on plant leaves or on the bottom of the tank.
Broken fin rays. Fin rays are the thin bones that hold the webbing of the fin together. Towards the end of the fin these rays spread out, which is called branching. Perfectly normal, except when the fish is bred so that the rays branch out much more than usual. The excessive branching causes a bigger tail, which in turn puts more weight on the rays. When the tail gets too heavy, the rays will not be able to hold the weight any more – they can break, causing the whole tail to collapse and damaging the fish. Once this happens, the beautiful rosetail/feathertail effect is usually gone; you're left with a fish with collapsed fins that is often unable to swim properly.
Tail biting. One thing leads to another; to decrease the weight of their fins and move more freely, a lot of rosetail and feathertail bettas start tail biting at some point in their lives. This habit, where the fish simply bites off parts of the caudal fin, increases the chance of fin rot. It's very important to keep the aquarium very clean if you have a tail biting betta!
Premature death. Most breeders agree that there is something wrong with the immune system in a lot of rosetail and feathertail bettas. They are weaker than regular bettas and often the smallest of the fry – because all the attention goes towards breeding the fish with the best finnage, other problems* are ignored. This can eventually lead to premature death, as the fish is more vulnerable to disease.
*Ignoring imperfections just to focus on finnage can also lead to improper form or bad scaling, as showed in the video below. Note how the scales are not lined up like they're supposed to be.
---
---
What to do when you already have a rosetail betta
If you've already bought a rosetail or feathertail betta or rescued one, you may run into one or more of the problems mentioned above. Some fishkeepers choose to trim the tail of their extremely long-finned bettas, but this is not something I'd recommend.
There are, however, a few things you can do to keep your fish comfortable. Baffle the filter is the flow seems bothersome, go for an aquarium that is long rather than tall and, most importantly, add plenty of resting places. Broad-leaved plants such as Anubias are perfect for this and will definitely be appreciated by tired and frustrated rosetails. You can also consider a Betta hammock.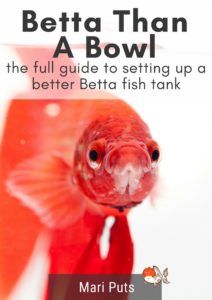 Real life example
A good example of what can happen when a rosetail betta is no longer young and strong was e-mailed to me by Kenny, admin of Goodbetterbetta on Tumblr. She rescued a betta from a neglected tank, but it unfortunately turned out that the problems Columbus had stretched way beyond just those caused by the neglect.
Columbus came to me as a rescue from an owner who hadn't cleaned his tank in over a year (literally).

(…) Columbus himself wasn't in good shape, either. He was pale and skinny and never moved. He wouldn't eat for a week. He must have been a feather or rose tail, but his fins were so blown out it was impossible to tell. The rays on his fins were all broken. His fins were ragged and lifeless and it was like he was just dragging a huge feather duster behind him.

It limited his growth and he would tail-bite to reduce the weight, but it was never enough. He would sit there at the bottom of the tank, visibly miserable, or perch on the betta hammock I got for him so he could reach the surface to breathe more easily.
Conclusion
It's important to mention that of course not all rosetails and feathertails will end up like Columbus. There are examples out there of fish with the gene living a happy healthy life, but most of the time their quality of life just declines too much as they age.
If you're considering buying a rosetail betta, please think twice about it. Even if you don't want to breed, you're still encouraging the production of these extreme and harmful fin types.
---
For more info on betta keeping, check out the Betta caresheet.
If you're looking for more examples of experiences with rosetails, be sure to scroll down to the comment section. Own a rosetail or feathertail betta yourself? Feel free to leave a comment and share your experience with them. Happy fishkeeping!
Cover photo: Double-Headed Awesome by yummysmellsca
---
Join the mailing list!